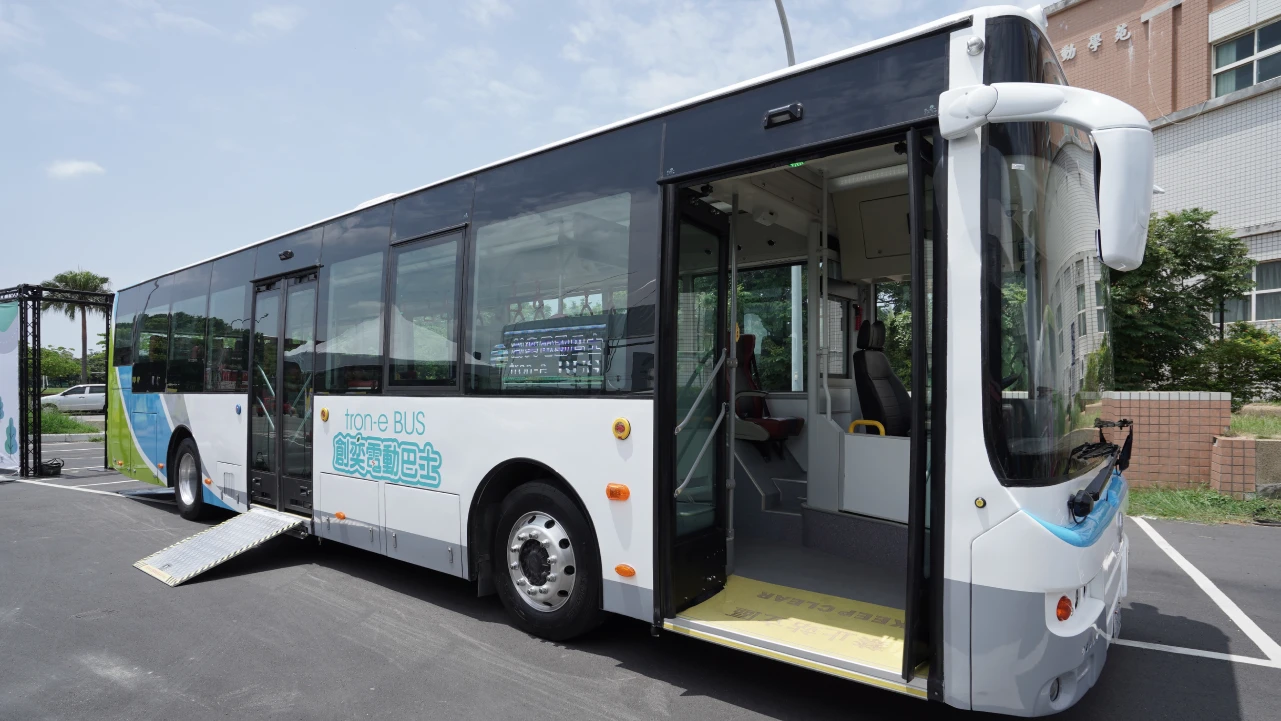 Tron Energy started from lithium battery materials. The team also has experience in ICT industry chain management and resource advantages. It has been deeply involved in smart city green transportation solutions for ten years and has developed into one of the major manufacturers of electric buses in Taiwan; in response to the government's electric bus localization policy, Tron-e worked together to achieve the goal of localization of the electric bus demonstration plan.
The global electric bus and self-driving electric bus market are in the ascendant, Tron-e escapes the traditional industrial thinking, combines the experience and resource advantages of Taiwan's ICT industry, develops the battery thermal management algorithm and the analysis and failure model of the operating data of key vehicle components, and concentrates internal and external research and development energy Focus on key subsystems that Taiwanese engineers are good at and have a high proportion of the entire vehicle; at the same time, use the experience in semiconductor and information industry supply chain management to introduce domestic and foreign suppliers with the highest cost performance, and lay the foundation for entering the international electric bus market competition.
Tron-e affiliated companies have widely deployed new energy industry chains, ranging from lithium iron phosphate cathode and anode materials, liquid-cooled battery systems, power transmission systems, electric buses, self-driving electric buses, solar energy systems EPC and maintenance, energy storage services, AFC services, etc.; In terms of overseas market expansion, Tron-e has cooperated strategically with listed companies in Singapore, Malaysia, Thailand, Indonesia, India, and other countries to provide flexible and customized products and services such as electric buses, self-driving electric buses, battery systems, and three-electric systems. . In recent years, Tron-e has achieved good sales results in electric buses and self-driving electric buses at home and abroad.
High-quality battery system solutions have always been the core niche of Tron-e electric buses, mainly using lithium iron phosphate battery cells, patented liquid cooling and air cooling heat dissipation design, self-developed battery management system (BMS), customized battery modules, On-site maintenance, and after-sales service, and demand high cost-effective products to increase the repurchase rate in the domestic and foreign markets.
In addition to creating a patented liquid-cooled battery system with customization, high safety, high reliability, and long service life, the optimal energy efficiency of only 0.9 kWh to 1 kWh of electricity for driving one kilometer is as high as 99.5% or more. Features such as high operation rate, innovative safety-assisted self-driving electric bus technology, long-term testing experience, big data cloud fleet management system, and the most timely after-sales service are combined into Tron-e electric buses and self-driving electric buses with overall high CP value. Market Competitiveness.
Compared with the export market, it is necessary to pay attention to the cost-effectiveness of products. In the domestic electric bus market, Tron-e electric buses are preferentially equipped with self-developed liquid-cooled battery packs, electric fleet cloud big data management systems, domestic intelligent systems and power supply systems, and domestic motor power. Transmission systems, etc., in addition to complying with the 50% value-added rate requirement of the whole vehicle in the electric bus subsidy measures of the Ministry of Communications, but also in line with the government's policy of localization of key components, hoping to cooperate with domestic manufacturers to expand overseas through the overseas channels currently deployed by Tron-e. market, build an international industrial value chain and drive the high-value development of related industrial chains to achieve the maximum benefit of the Ministry of Communications' electric bus demonstration plan to build a world-class production base.